ALARA members hail from all over Australia, and we also have our sponsored DX members scattered around the world.
Our members vary in age from schoolgirls to retirees; we have various backgrounds and careers, along with our families and other hobbies and interests.
You can read about some of our members on these pages and learn a little about their background to discuss next time you meet them on air!
Michelle VK2AYL
Michelle has an impressive pedigree for an Amateur Radio Operator. Her mother, Norma VK2YL, is one of the founding members of ALARA. Michelle says that she was not under any pressure to become involved in radio, it was just all around her when growing up, and a natural thing to do. It is one of her many interesting activities. Michelle brings this background plus her own skills to the group as she leads us forward in 2022 as our new President.
Tell us about your ham radio activities?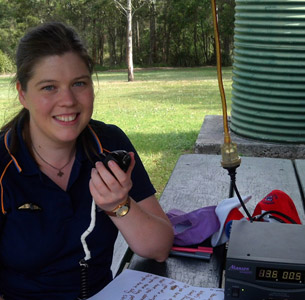 I enjoy taking part in Radio Nets, Competitions and JOTA. Each year I help with setting up and operating the radio station VK2GGZ) for Winston Hills Girl Guides and Scouts. During the weekend the kids all get the opportunity to talk to other Girl Guides and Scouts on the radio and learn about radio through hands on activities such as Morse code.
What ham radio activities do you want to become involved in?
I am interested in becoming more involved in HF radio and portable radio operations. I live in the suburbs and have not set up any particular equipment yet because of the potential for interference. Apart from setting up a HF radio in local parks for competitions I mainly operate on Echolink.
What are your favourite non-radio activities?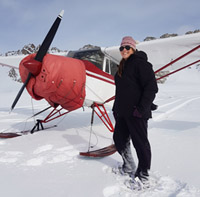 My other hobbies include Girl Guides (I lead a group of 10-14 year old girls each week), music (I play classical guitar and cello) and flying (I have my Private Pilots Licence and fly aerobatics).
What do you do for work?
I work as an Environmental Scientist. My work involves preparing Environmental Impact Assessments for major infrastructure projects.
Biggest ham related success?
My two biggest ham related successes have been earning the Platinum Scouting 100 Radio Award in 2008 and the Top Foundation Licence Trophy in the ALARA Radio Contest in 2019.
How have you benefited from being an ALARA member?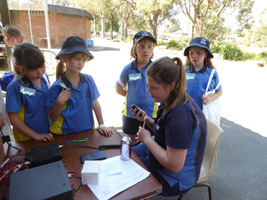 I have enjoyed meeting and receiving encouragement from other female radio amateur operators at the various ALARA functions including at the ALARA Meets.
How do you keep in touch with ALARA members?
Every two weeks I join in with the ALARA Radio Net on Echolink (Monday nights at 8:30pm). This Net provides a great opportunity to regularly keep up to date with other members in addition to the Newsletter and ALARA Meets.
How did you get involved in ham radio and get your licence ?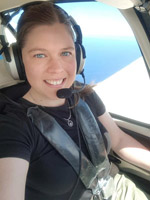 My family is very involved with amateur radio and so I have grown up with it. My mother (Norma O'Hare VK2YL) was a foundation member of ALARA. When the Foundation Licence was introduced I attended a weekend course held at a local Pizza Shop. The owner of the Pizza Shop also attended the course.
Top three must have tools for Radio?
A good set of headphones to easily hear communications when operating in the field, a good method to throw the antenna over a tall tree and lots of enthusiasm!