ALARAmeet is once in every three years event to meet other YLs of our organisation and other Amateur Radio Operators in person, having communicated over the airwaves for years. Due to the unprecedented CoronaVirus COVID-19 pandemic in early 2020, it has been decided to
postpone the next ALARAmeet until 2021.
The next ALARAmeet will be in Bendigo, Victoria, from the 1st - 4th October 2021.
We are currently asking for expressions of interest from those who think that they would like to attend. This is not a booking, merely an indication to us of how many people might be attending, so that we can start looking at venues, buses etc.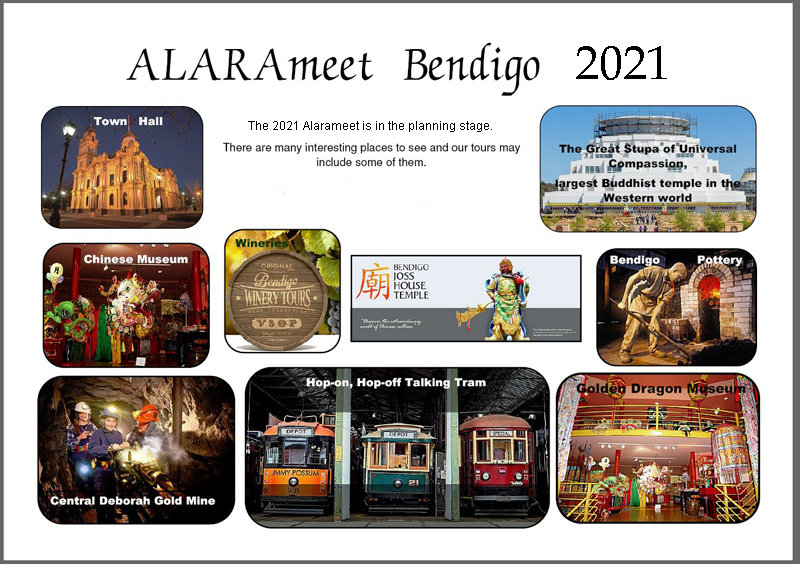 Some of the places of interest, and activities we are currently considering are The Hop-on, Hop-off Talking tram which will take you around the centre of Bendigo, explain some of the history, and from which you can visit The Central Deborah Gold Mine, the Bendigo Joss House Temple, the Chinese Museum and Gardens, the Cathedral, the Woollen Mills, and many other places.
On the Sunday there will possibly be a bus trip to the Great Stupa of Universal Compassion, the largest Buddhist Temple in the Western world, and also the famous Bendigo Pottery, and Antique Centre.
On the Saturday night we will have our formal dinner, with a speaker; and on the Sunday night, a less formal dinner with a dress up theme of the "Gold Rush", and another great speaker. The Monday will probably be a bus trip a little further afield.
As I said, these are amongst the things that we are considering and there may be a lot more. Whatever we do, it's sure to be a great weekend filled with fun and friendship!
If you would like to join us, please send your Expressions of Interest to Heidi Tobin VK3FHID, at VK3FHID