ALARAmeet 2014 - Nelson Bay NSW 24 ~27th October, 2014
A report by Dot Bishop VK2DB
We had a very successful, happy Alarameet in Nelson Bay with our venue having views down the hill and out to sea.
It was a full program with many highlights. Anjes and Henk VK2GWK had planned so well, it ran very smoothly.
There were lots of greetings and laughs as we all met and began the weekend.
Christine VK5CTY and Jenny VK3WQ gave talks and pictures of Bletchley Park giving us different points about what they found interesting.
Catherine VK4GH showed us the building of the boat that OM John and her will be touring in, she was not a boat person at first but seems to be warming to it.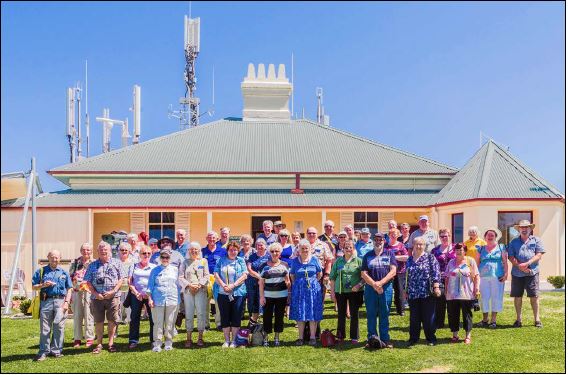 Group photo taken at the 3 yearly ALARAMEET 2014 - held on October 24~27, 2014, Nelson Bay, NSW
Photo shows the group outside the Port Stephens Marine Rescue Radio Base - Photo Henk Tobbe (VK2GWK)
The men went to Fighterworld, an exhibition at Williamtown RAAF Base which is dedicated to preserving the history of fighter aircraft of our Air Force. They found it all very fascinating as they peered into cockpits and enjoyed the noise and action of an operational Air Force Base.
John Clarke was a great speaker who told many amusing tales of Port Stephens, pointing out the places where those tales took place on the bus trip after the talk. The area is so pretty and some interesting characters lived there in years gone by.
The Marine Rescue Radio Base was high with a 360° view from the radio room and a good photographic site. We were able to stroll through the museum seeing and reading its history. Back on the coach we went to see the sands, and the camels, of Stockton Beach.
We had a coach trip to the 166 year old Maitland Gaol where we had one of the ex-inmates as a guide. Now he was a real character who could speak from experience. We were shocked by the pokey dark cells and could understand why some prisoners would go mad. The cages for the murderers were like dog kennels.
For lunch we had a lovely meal at the McWilliams Mt Pleasant Winery where we also had a wine tasting and vigneron Brian Collins gave an informative talk about wine making.
The afternoon trip to Morpeth was pleasant. The heat had us wilting badly so we took refuge in the many delightful little shops with air-conditioning.
Morpeth was the river port on the Hunter River from 1931 until the Great Northern Railway was built in 1857. Morpeth is also the original place where Scottish biscuit maker William Arnott baked and began his iconic biscuit company. We enjoyed a trip to the historic house Tahlee where we were given a beautiful morning tea and joined in some singing. Then after a guided walk through the museum part of the house and around the grounds we were served a lovely lunch. At the end of our day we caught a little ferry back to Nelson Bay.
As for dinners – We had a lovely seafood dinner cruise around Port Stephens on the Moonshadow and even in the dark could see dolphins swimming and jumping around the boat. Our next dinner was the 'formal' one with mad hats and trivia. The tables were decorated with yellow and black, so beautifully done. Everyone was in party mood so it was a lot of fun. Bev VK6DE won the prize for the craziest hat – a stuffed red and black corset and bra perched on her head with a sign "Of Corset's a Hat".
And the trivia? Well, I'm glad we were in our own room, there would have been noise complaints if we were in a public area. The Mars awards were given out for hilarious indiscretions and the Raffle took place.
Anjes and Henk are so well known and contribute to the community in the area, that many businesses were happy to help them as they planned Alarameet. After Alarameet they received a lot of enthusiastic emails from many of the participants.
~~~~~~~~~~~~~~~~~~~~~~~~~~~~~~~~~~~~~~~~~~~~~~~~~~~~~~~~~~~~~~~~~~~~~~~~~~~~~
ALARA MEET 2014 from 24-27 Oct. 2014
Programme and Information
FRIDAY
4 – 8 pm Registration and welcome. Show bags with local information.
Bring along the things you want to hand in for display or want to donate for the raffle.
There will be a table to showcase our craft and handwork. YLs have many skills that are discussed on the radio nets and here is a chance to see some of that beautiful work.
Raffle items are interesting and/or useful items that we would be happy to win ourselves.
SATURDAY
9:00 am Opening of the meet by the President of ALARA, Jean Fisher VK3VIP
9:30 am YL – Presentations by members (DX-pedition slide show)
OM – Visit to Fighterworld at Williamtown.
FighterWorld, an exhibition in two hangars at Williamtown RAAF Base, is dedicated to preserving the history of fighter aircraft of our Air Force. You can touch, look into the cockpits, walk around or go outside to enjoy the noise and action of an operational Air Force Base.
11.00am Morning coffee or tea and Eye Ball QSO and the Photo Session.
12:30 pm Lunch
1:30pm "Port Stephens" by John "Stinker" Clarke. John is a well known personality in Port Stephens: historian and fishing guru, who has written several local history.books.
2:30pm Bus tour around the Peninsula: Along the way John Clarke will point out various walks and things to do in the area. Port Stephens is an estuary for two main rivers and many creeks and is larger than Sydney Harbour. There are 26 sandy beaches and it is home to a pod of about 150 dolphins. There is an abundance of beautiful, relaxing views both above the water and below.
After the bus tour we'll be dropped off in town for afternoon tea and shopping on your own at about 4 pm.
7:00pm Dinner cruise around Port Stephens on board the "Moonshadow"
SUNDAY
9:00 am Coach to Maitland Gaol. The prison was built of sandstone from Morpeth and Farley and first opened to inmates in 1848. It has a rather colourful history with many great escape attempts.
Most escapees tried climbing over the walls, some went through an exhaust vent in the shower room and another time an attempt to dig a long tunnel failed. There were riots and fires. Drugs were sent over the wall to inmates, in tennis balls or dead birds.
Filming of advertisements, TV serials, features and films has taken place since it closed as a gaol in 1998.
Then we travel to the scenic Hunter Valley.
First to Pokolbin shopping village with interesting shops a traditional Italian Gelato shop, a well stocked Smelly Cheese Shop, a Chocolate and Jam Company shop and a shop to temp vixens 'with a gorgeous selection of jewellery, handbags, gifts, mirrors, lamps and naughty Items'. Is that us?
We go to Robyn Drayton Winery for wine tasting and lunch.
Robyn Drayton is the only female vigneron and winemaker in the family and continues a proud tradition of over 150 years of Drayton winemaking in the Hunter Valley.
In the afternoon we have a by a brief visit to historic Morpeth
Morpeth was the river port on the Hunter River from 1931 until the Great Northern Railway was built in 1857 bypassing the town. Apart from the lovely river views and historical buildings a few of the attractions in the main street are:
Morpeth Sourdough is the original site where William Arnott the Scottish biscuit maker baked and began his iconic biscuit company. The humble bakehouse and store is still owned and worked by a 6th generation Arnott,
Australian Alpaca Barn has delightful alpaca products as well as yarns and accessories made from Australian fleece.
Morpeth Wine Cellars and Moonshine Distillery have two copper pot stills where Morpeth Moonshine is made onsite.
Return about 4:30 pm
7:00 pm Dinner with raffle and Trivia Quiz – Dress up in a "Mad Hat"
MONDAY
11:00 am By Ferry to Tea Garden hopefully spotting some dolphins on the way, then continuing by bus to historic Tahlee House for lunch and back to Nelson Bay.