From the Coordinator Susan VK7LUV
Thank you to all the 41 YL's who attended with their 43 OM's and family members. 84 – what a wonderfully even number.
Where do I even begin with our whirlwind weekend? Friday evening saw 78 of us enjoy a lovely meal at the Beachway Motel Restaurant – although we did dine a little later than anticipated because the staff couldn't figure out how to get the highly mobile socialites to sit in one seat long enough to take our orders.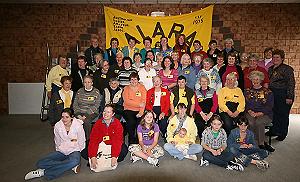 On Saturday morning we had an eager team of assistants ready for Registration time – Kirralee collected pet photos, Natali handed out the showbags, Tina set up displays for the History, craft work and special effort, and I believe it may have been Meg VK5YG who worked out who was who to give name tags to. The morning passed much too quickly as we managed to squeeze in morning tea before posing for photographs galore! We YL's were beginning to feel like royalty with all the paparazzi after us "just one more girls".
After all the frivolity we managed to settle down long enough for our President, Marilyn VK3DMS, to officially open the Meet – which she managed with her usual calm and efficiency – thank you Marilyn. Presentations were made to Mavis VK3KS, Mavis (ex – 3BIR), Heather VK2HD and Norma VK2YL to celebrate '33′ (love sealed by friendship between one YL and another) – a gift from all of our members to these four YL's who not only are founding members but have retained continuous membership of ALARA for all of it's 33 years. Unfortunately none of these YLs were able to attend, however the messages sent to share on their behalf were lovely and we thank all of you for your contribution to ALARAMeet '08.
We were delivered from Ulverstone to the Axeman's Hall of Fame & Timberworks at Latrobe in two comfy Redline Coaches, one of which was quite special – "Miss Barbie" who was pink, especially for the YL's, pretty clever I thought, although we did let some of our OM's share her.
At dinner that evening we were joined by Tony VK7AX, President of NWTARIG (North West Tasmania Amateur Radio Interest Group) with his wife Rosemarie. Tony was our special guest who shared some of his memories of becoming involved in amateur radio, the WIA, the formation of NWTARIG and the clubs contributions to amateur radio in Tasmania.
We asked Marilyn VK3DMS to cut our official cake. Due to the emerging younger membership division of ALARA, we also had a chocolate mudcake that was decorated with a lovely gold crocheted doily with '33′ worked in the centre (this provided for us by Margaret VK4AOE), so we asked Lynette ZL1LL as President of WARO (and birthday girl of the day) to cut this cake for us.
The Saturday evening Mars Bar Awards were a bit difficult – people didn't seem to do quite so many strange things trying to get to Ulverstone as they did on their way to Mildura 3 years ago!
I know that what everyone is really waiting to hear about is "Who won the lucky door prizes?" Well, congratulations go to Susan VK3FXXX who won a fabulous wallhanging made by Marilyn VK3DMS. It really is a lovely item and I am certain that Susan was delighted with her win.
The 'other' lucky door prize was of course the radio donated by Icom (Australia) Pty Ltd – the ICP7A. Well, I may be mistaken, but I actually thought this item was won by Hans VK5YX – however bright and early on Sunday morning Lesley VK5HLS was heard calling for a radio check on our local repeater and when boarding the coach Lesley showed us what a 'neat little handbag item' the ICP7A is. I think huge congratulations should go to Hans VK5YX – firstly for winning this little beauty, but also for having the commonsense to 'share' his prize!
On Sunday morning I believe most of the group got to cuddle a wombat – in particular Christine VK5CTY who is well known for her wombat fetish! Also there was an opportunity to pat a Tasmanian Devil. Another big highlight for many was at the Platypus House where we enjoyed several echidna's waddling about around our feet, one nearly climbed into Pat VK3OZ's backpack!
The train section at the Queen Victoria Museum and Art Gallery, Inveresk was particularly interesting to all, but then the whole museum was interesting.
Once back at the Bass & Flinders in Ulverstone, we had our closing afternoon tea. During this time we had the drawing of the special effort, where the most coveted gift was a beautiful "Mabe" pearl donated by Bev VK6DE. Bev advised that different shapes form on the shell of the black-lipped oyster and it is a beautiful pendant, with bail and chain of sterling silver – this now has a new home with Pam VK4PTO and I am sure Pam will remember ALARA Meet '08 every time she wears this lovely pendant. We had many other wonderful gifts – including a door harp! I had never head of this item before, however it was made and donated by Pam VK3NK and is a rather unique and lovely item. Another item that I thought was particularly worth mentioning is the pair of miniature handcarved Huon Pine cowboy boots donated by Shirley VK7HSC made by her OM Max VK7KY.
The Special Effort items were really absolutely fantastic. Thank you to all those who donated items, particularly the handmade items – we have so many talented members! Thank you also to everyone who assisted during the Meet – from handing out nametags to collecting stragglers during our coach tours – every little bit of assistance was hugely appreciated.
The other official business conducted at our closing afternoon tea was the announcement of our destination for the 2014 ALARA Meet – Gold Coast here we come!