Cars with ribbons, radios, YLs and OMs began arriving in Mildura well before the official starting day for ALARAmeet 2005. New arrivals were being met regularly at the airport and loud greetings were heard in all the motels and camping grounds where we were accommodated.
The Friday night dinner was optional at the Gol Gol Pub but most of the ALARAmeet attendees seemed to be there. We'd had a storm in the late afternoon so the red earth parking area was nicely slippery.
Not that it bothered us, there were friendly faces everywhere – some we had met before and some we hadn't. The food was good and so was the company.
Saturday was the first formal day. We met, registered and were given goody bags containing local produce and leaflets about what to see in the area. ALARA's President, Susan VK7LUV opened the Meet.
The Contest Manager, Marilyn VK3DMS presented Pat VK3OZ with a special Morse Key Plaque to replace the large Florence McKenzie Trophy which is now on show in Glenelg. Pat had won the Florence McKenzie Trophy for four of the last five years that the trophy was awarded.
After all the formalities, a noisy photo session took place – all YLs, all OMs, YLs who belong to ALARA, WARO, etc, etc.
After lunch we tumbled onto a bus and started touring.
The first trip was to the Inland Botanical Gardens where we rode on a 'train' pulled by a tractor. The wind was bitterly cold, the PA system kept scratching in and out, but the gardens were lovely, different to most botanical gardens, and the laughter and jokes never stopped.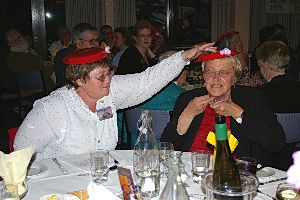 Saturday night was our Formal Dinner where we were all dressed up.
Joan VK3BJB read her poem about her experiences in "Joining The Ranks" (of radio amateurs).
Shirley VK5JSH gave all the YLs a red hat to wear as she read the poem "Warning – When I Am an Old Woman I Shall Wear Purple".
Rob VK3KRB, representing the WIA gave a short talk about the WIA's achievements. Jenny VK5ANW cut ALARA's 30th birthday cake.
Then Meg VK5YG gave out the MARS awards for the funny things some people do.
Food fetish award to an OM who absolutely dotes on ice-cream ….. Jim ZL1AUR
Travel award to Shirley VK5JSH for going to great lengths to try to match the ZL's for distance travelled by flying to Perth, then to Adelaide and driving to Mildura.
Genuine travel award as representative of the distance ZL's travel to be part of ALARAmeet….. Alma ZL1WA
Long distance swimming award – as mentioned by our guide on our Inland Botanical Garden tour (it's a long way to swim home) …. Raija SM0HNV
Transport award to …. Marilyn VK3DMS who drove to the airport, met the plane, but failed to collect the two arrivals who made their own way to their motel
Navigation award for taking 'short cut' which took them on a gravel road for a very long way when they could have travelled on bitumen all the way….. Kevin VK5AKZ
Senior Moment award………..Poppy VK6YF who was keeping VK6DOL but ……
Senior moment two …VK5AMD Mary … forgot to bring her painting to show
Over and above the call of duty ….. Mary Rodgers for teaching tatting to 2 ladies between courses at the dinner.
Craft award for showing her bias – well bias binding actually in the beautiful Mountain Buttercup place mats…… Alison ZL1TXQ
Telling a good story…….Christine VK5CTY for writing the history of ALARA
Inattentive spouse award……….. John VK2ZOI for not paying attention during the group photographs
Good chuckle award …….GuyVK4ZXZ for smart comment upon viewing an egg on the footpath as we disembarked from the bus "..had heard a lot of cackling on the bus!"
Last minute award…….for leaving it until the last minute to give us a wonderful surprise by being able to attend ALARAmeet after all …..Susan VK7LUV
Sunday was an early start for some retirees, however we were back on the bus and visited Minters Asparagus Farm where we taste tested fresh, raw, crisp asparagus, very nice. We saw almond trees, olive trees, orange trees, avocado trees and grape vines by the acre.
Grapes? Wine grapes, table grapes, green grapes, red grapes, seedless grapes and seeded grapes, we learnt all about them.
At Lindeman's there was a wine tasting then on to Trentham Winery for a barbeque lunch. A storm just after lunch chased us all indoors for more wine tasting, hot coffee and more chatter.
Last trip for the day was to Gareffa's Vineyard, no not wine, but sultanas. They dry them naturally and let us taste test as much as we liked. We liked! The owner had his wife baking soft biscuits in a wood burning pizza oven for us and we enjoyed them too.
At 4pm we gathered for the formal close of the Meet: the drawing of the Special Effort, the folding of the flag and the announcement of ALARAmeet 2008 (Tasmania).
Monday, for those who were still there, was an even earlier start for a full day trip to Mungo National Park. We had an aboriginal tour guide who played the didgeridoo and told stories as he explained the history of the area.
Much of the area we drove through used to be a vast inland lake and the many coloured sands on one side, called the Walls of China, have pyramids of sandstone dotted around. There are many fossils in the sands and they are being preserved.
Many final farewells were said as we left the bus and even more that night at the motel. Tuesday morning the final, final goodbyes were said as we drove out.